EVENT
Circular Design Experts
The talks and biographies of the experts and the team of the Circular Design Deep Dive event
Experts
Almut Nagel
European Commission
Bio

Almut Nagel is working in the European Commission, Directorate General for Communication Networks, Content and Technology, in the unit CNECT.F.1 "Digital Transformation - Coordination of Digital Strategy and Green ICT". She is policy officer in the field of Green Digital Transformation and works among other things on the European Digital Product Passport and with businesses of the European Green Digital Coalition towards methodologies to measure the net environmental impact of ICT solutions.
Video
Rasmus Taun
Head of Business Development - Stykka
Bio

How can we make sustainability a good business? Is it even possible? Rasmus's passion for sustainability as a business model and circular economy on a global scale isn't only due to his traditional background in finance. Nor can it be attributed to five years spent working in China where he experienced first-hand the impact the human race has on our climate. It's not because of years of working as a sustainability design consultant either. But all three in combination has made Rasmus the perfect link between creative ideas and financially feasible paths in sustainability. Rasmus has spent most of his professional career looking for more sustainable ways of doing business and how to bridge the gap between economic challenges and quirky design. With that in mind, he co-founded the construction tech startup Stykka with a mission to make the construction industry - one of the most polluting industries - more sustainable. Rasmus is Head of Business Development at Stykka.
Talk

The business case for circular design - The love child between Danish Design and Technology

My presentation will focus on proving the business case for the circular economy and how companies can make sustainability good business. My presentation will draw on examples from building Stykka, and how we have used digital manufacturing and technology to turbo charge the transition to the circular economy.
Video
Ursula Tischner
CEO - Econcept
Bio

Ursula Tischner studied architecture, art and product design/industrial design and specialized in sustainable design of products, services and systems (Eco-/ Sustainable Design). After completing her master's degree, she worked for more than 4 years at the Wuppertal Institute for Climate, Environment and Energy and founded econcept, agency for sustainable design, in Cologne in 1996. With econcept she consults companies, conducts research projects, develops and designs solutions and is active in education and training. Numerous publications accompany her work.
Talk

Title: Circular design - the challenge is in the details "Circular design" is currently on everyone's lips, but the approach is not new and not sustainable per se. The devil is in the details - as is so often the case. In her presentation, Ursula Tischner will briefly explain the term circular design and its history, show examples and present theses on the conditions under which circular design can actually lead to greater sustainability.
Video
Jenny Lee
Founder - Studio Aikieu
Bio

Jenny Lee is a researcher, entrepreneur, creative strategist, founder of Studio Aikieu and lifestyle brand edit. She is a leading advocate on the transformative role that design can play in the development of regenerative and equitable futures. With specific expertise in cultural futures, strategy and disruptive innovation, Lee has delivered cutting-edge research in the retail, design and lifestyle sector. Through collaboration with project partners, Lee aims to bring together multidisciplinary agents to work towards a common goal – to imagine a better and actionable future. Working across the intersection of nature, design, technology, society and business, to foster global change.
Talk

As we know Earth is home to millions of species, but just one dominates it - us. There are 7.6 billion people on this planet but we only represent 0.01% of all living things. BUT because of human ambition, our activities have modified almost every part of our planet and now there is talk about colonising another planet - Mars. Current design & business practices tend to optimize for profit and fail to consider the larger impact of these activities over time. If we are to restore and create healthy systems we need to develop new approaches where all species, human or otherwise has equal equity. We need to shift from a human to species centered design approach, where nurture nature, nature made and ecological models underpin our vision of a new design ecology to a multi-species future, where humans are neither superior nor inferior to other life forms.
Video
Arthur Morée
COO - Grown.bio
Bio

Arthur graduated in Nuclear Physics (still a hobby) and Business Economics at the Technical University of Delft. After a few years of being a business consultant, in parallel he acquired a few (not sustainable) production companies to 'practice' what he preached. He sold all his companies in 2012 to make a shift towards sustainability. At the age of 50, he graduated in Social Studies at the University of Utrecht to better understand how to shift people's minds to sustainability. In 2018 he founded Grown.bio with Jan Berbee and started making products of mycelium. As COO of Grown.bio he is responsible for innovation and the development of the production technology in particular.
Talk

Arthur gives an overview of how Grown.bio makes products of mycelium composites and explains how this contributes to a circular economy. How Grown.bio works with designers in the fields of interior design, packaging and building & construction to implement mycelium composites to suit their needs. Another topic he will talk about is how Grown.bio supports their clients to make the transition smoothly. At the end presentation of the analysis of Grown.bio successes and failures as takeaways.
Video
Elena Ianeselli
Director of fashion design - Lottozero
Bio

Elena Ianeselli, a graduated in design and fashion theories of IUAV Venice and Polimoda Firenze, is the director of fashion design and sustainability at Lottozero, research center of textile design, art and culture based in Prato, Italy. Over the years, she has dedicated herself to various projects focused on sustainability in the textile-clothing sector, aimed at promoting changes in production and consumption models. Her work includes; theoretical and practical research, developing and coordinating courses in some of the most prestigious design schools in Italy, including lectures and workshops for students and designers, the coordination creative residencies for designers, the curating of exhibition events, conferences and tours in the textile district of Prato.

Lottozero operates both as a consultancy studio and as a creative hub, divided into a gallery/exhibition area, a shared studio space/coworking and an fab-lab for textile production, experimentation and research. Our work is aimed at designers, artists, brands and institutions, providing personalized services and resources to anyone concerned with the world of textiles, textile art and fashion.
Talk

It is a well-known fact that the fashion industry is the second most polluting industry in the world. In recent years, many brands and companies have started to adopt sustainable and circular practices, accepting the need for a major and sudden change within the fashion system. Recently, the European Commission presented a package of European Green Deal proposals to boost circular business models and products. Design represents the first step on this path, therefore it is essential to train designers to an in-depth understanding of how the fashion system works, in order to renew it. The role of education, both for students and professionals, is essential in this respect.
Video
Marion Real
Researcher - Fab Lab Barcelona
Bio

Marion Real is a systemic design researcher exploring co-creation processes in the territorial transformations toward circular economies and cosmopolitan localism. She is currently working at Fab Lab Barcelona at IAAC where she is working at the crossroads of the productive cities and material & textiles research areas, in various projects touching circular design such as Siscode, Remix el Barrio, Shemakes and Reservist. She is also Faculty of the Master in Distributed Design and Innovation , associate researcher at Centre for Circular Design in London.
Talk

The Distributed Design Market Platform acts as an exchange and networking hub for the European maker movement. The initiative aims at developing and promoting the connection between designers, makers and the market. In this talk, Marion will present the distributed design values, showcase core projects of this growing community of design practice. Distributed Design will be discussed through the lenses of sustainability to open new perspectives for curious and practitioners.
Video
Raphael Haus
Chief Operative Officer - Fab City Hamburg
Bio

Raphael Haus is a leader in the the development of the digital infrastructure for Fab Cities. Together with a team of experts in software development and research he is partnering with many organisations to bring forward the development. He has a multidisciplinary background in Engineering, Design and Entrepreneurship
Talk

We develop Fab City OS (FCOS) as a digital infrastructure, upon which the economy of Fab Cities and Regions shall unfold. In line with the Fab City Whitepaper, this economy is one in which on the local, eg the city-level, materials circulate - a circular economy is. In our presentation, we develop the polemic thesis that only if fed by a global digital commons of product designs, a circular economy can become the dominant model.
Video
Christoph Tochtrop
Researcher - Wuppertal Institute
Bio

Christoph Tochtrop is a research associate in the research and teaching department 'Sustainability in Design' at Folkwang University of the Arts as well as a research associate at the The Wuppertal Institute in the department of sustainable production and consumption. He designs with the aim of developing products that contribute to sustainability in their construction and interaction. He studied industrial design and transdisciplinary design at Folkwang University of the Arts. As a trained carpenter, he likes to find himself in transformation processes in which research activities become tangible products.
Talk

Christoph Tochtrop will use the refrigerator-freezer combination as a case study to explore the field of the circular economy with some conceptual proposals. What becomes of the refrigerator when different mechanisms of the circular economy, such as R-Strategies or the waste hierarchy, are played out? Different approaches will be discussed. The focus will be on design results from the BMBF-funded research project "Circular by Design", which addresses the recycling of fridge-freezers.
Sarah Buerger
CEO - House of All
Bio

Sarah Bürger is dedicated to helping transform the fashion landscape through her work as a designer and founder of House of All applying a holistic circular approach to everything she does.

"If you take a closer look at nature, you will find answers to everything. It is so insanely perfectly designed. Nothing is superfluous, but there is more than enough of everything. It's a cycle of things. I think clothing gives us stability and a sense of comfort, it connects people. It can be a powerful tool for change." Having spent a few years in the UK delivering 6 figure packaging projects within luxury FMCG she returned to Germany starting her quest towards more sustainability within the garment sector. The Opening of the first coworking space for fashion designers in 2014 "Formschoen.Raum fuer Design" whilst studying was her first step on the journey, carrying out research in the field of Sustainability and Fashion at the same time. As a board member of Fab City HH e.V. she supports the city's goal to become a circular city within the textile sector and is consortial partner for the Open Lab Circular Textiles Hamburg.
Video
Lucas De Man
CEO - Biobased Creations
Bio

Lucas De Man graduated from the KU Leuven with a Masters in Literature in 2004. He immediately applied to the Amsterdam University of the Arts (NL) to become a Theatre Director and won the Matthijs Prize (NL 2007) and the Young Talent Award from Theater aan Zee (BE 2007) before graduating in 2008. In his final year he founded together with Wouter Goedheer and Bas Van Rijnsoever Company New Heroes, a professional creative company, specialized in storytelling and imagination. They create artistic projects all over the world with a network of freelance creatives from all disciplines. In 2019 Lucas, Wouter and designer Pascal Leboucq founded a second organization called Biobased Creations, a design studio for artistic practice with nature and natural materials. They became worldfamous for "The Growing Pavilion" and "The Exploded View Beyond Building".
Talk

The talk of Lucas De Man will deal with the role of the designer today, an important role that combines research with storytelling, imagination with concrete proposals for a possible future. He will talk about the system change we are facing and how the designer has an important role to play in it.
Video
Eric Pfromm
Professsor - Academy for Fashion and Design
Bio

Prof. Eric Pfromm was born in 1970. He studied industrial design with Dieter Rams at the academy of fine arts Hamburg. But even more, so he studied with his friends who were and are his partners at BFGF DESIGN STUDIO since 2001. He certified as cradle-to-cradle© design consultant 2011 and teaches design students in concepts for circular economy ever since. At and Academy Fashion and Design he developed a B.A.-course in product design that focuses on sustainable industrial design.
Talk

In his talk, Eric Pfromm explains the basic principles of cradle-to-cradle and the paradigmatic shift in changing production instead of trying to change consumption. Developing and designing for takeback-systems is the fundamental new challenge of industrial design. Teaching students to develop circular product strategies has taught him about the enormous shift in perspective that is needed to understand the chances and necessities of designing products for circular economy.
Video
Christoph Hinske
Associate Professsor - School of Finance and International Business
Bio

"All too often, industry transformation initiatives dramatically fail because they apply tools, strategies and frameworks that have been designed to build the very systems they want to transform." Christoph Hinske, Associate Professor, SAXION University of Applied Sciences, Netherlands

To avoid the Circular Economy falling into that trap, my research at the School of Finance and International Business focuses on empowering leadership-management in all sectors to stop their agreement systems from being linear-extractive. I map economic deviants & high-performance agreement systems, exploring the fundamentals of leadership-management for a regenerative-systemic economy.
Talk

My contribution uses a recently published science-based comic and examines what the promise of an endless circle can and cannot deliver. I intend to inspire us to see through the marketing and policy charade that sells the circular economy as a silver bullet. The comic is a condensation of crucial ideas in the forthcoming book: The impossibilities of the Circular Economy - Separating Aspirations from Reality, published in 2022 by Routledge, Taylor&Francis.
Video
Team
Wolf Kuehr
Concept / Curation
Bio

Wolf Kühr is a research-oriented creative worker, with a focus on design and digital sustainable production. He has 25 years of experience in the design, coordination and realization of international projects located at the intersection of creative industries, research and new technologies. His focus is on designing the material, social and digital aspects of ecosystems to create new forms of collaboration, learning and production. Wolf holds a bachelor's degree in Humanities from Berlin and a master's degree from the Ecole National Superieur de la Création Industrielle in Paris. He worked on several EU-funded research projects, including "Centrinno","Post social media Club". Actually he leads the communication for the EU project Interfacer on behalf of the Fab City Hamburg e.V. and is teaching Design & Innovation in Paris and Cologne. He is associated partner of the creative and productive Hub Volumes in Paris, and board member of the European Creative Hub Network.
Video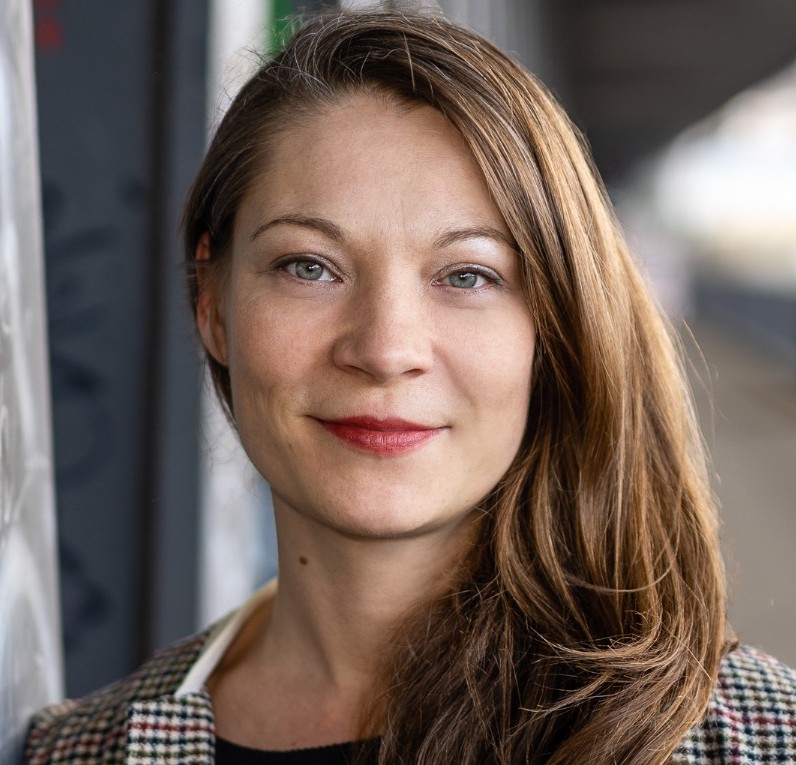 Annika Fitz
Concept / Design
Bio

Annika Fitz curates and concepts events and is also responsible for talent development and the establishment of interdisciplinary networks in the fields of young talent, innovation, sustainability and transformation. Previously, she studied meteorology at the University of Hamburg and technology studies and industrial design at the HFBK Hamburg. She has worked as a product and interior designer in her own studio and for various companies in Hamburg. She is also a reference book author and volunteers as vice chairwoman of the board at Fab Lab Fabulous St. Pauli e.V..
Michael Ziehl
Moderator
Bio

Dr. Michael Ziehl is an Urbanist and Urban Researcher with profound expertise in the Co-Production of Urban Resilience and community-oriented real estate projects. Besides his doctoral degree in Philosophy (Metropolitan Culture) he holds a Master of Science in the field of Urban Planning and is a graduate engineer in the field of Architecture. From Hamburg, Germany he is running Urban Upcycling – Agency for Urban Resources and within the City Science Lab at HafenCity University he is lead researcher on citizen co-design in the Connected Urban Twins project.